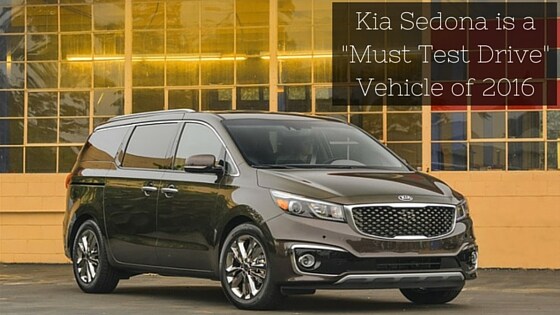 During the annual New York Auto Show earlier this month, the all-new 2016 Kia Sedona was named one of Autotrader's Must Test Drive Vehicles for 2016. This list of vehicles showcases top models that consumers should test drive when shopping before making a final decision, kind of like a "don't miss" list.
The vehicles are chosen based on criteria from Autotrader's experts, who drive thousands of miles every year while testing out the newest cars, SUVs and trucks.
To be considered for the list, vehicles must:
Be available for purchase at the time of the award announcement

Have a base price under $75,000

Offer a significant value for the price
Winners of the award must score no lower than a 4 on Autotrader's five-point scale in a variety of categories, such as:
Exterior styling

Interior quality

Cargo capacity

Included and available technology

Ride quality
The 2016 Kia Sedona is certainly one of the most stylish minivans on the road, which is not a phrase used often! Its sleek shape, high-quality interior and a quiet, comfortable ride make the Sedona feel more like a luxury SUV than a family van.
If you still aren't sure about the 2016 Kia Sedona, let us draw your attention to some of its top features…
Reclining second-row seats are a game-changer when it comes to traveling with kids (and even adults). We've all been on those road trips, or even trips home from an exhausting day, where one minute you hear voices in the back and the next minute, you look up to see your children fast asleep with their heads completely rolled forward and you wonder if it's okay to let them stay like that. WIth these seats, they can lean back and get cozy.
A huge sunroof over the middle and third-row seats brings in the sunlight and lets your passengers get the most out a ride on a beautiful day or be captivated by the sight of rain from above.
________________________________________________________________________
If you're in the market for a new minivan for your family, but don't want that minivan look and feel, take a look at our inventory of the 2016 Kia Sedona on our website and then contact us to schedule a test drive – Autotrader said you should! Bring the whole family along and see just how great a fit it could be.
Browse our selection of the 2016 Kia Sedona
Luther Kia is your trusted local Kia dealer near Minneapolis. We have a huge inventory that includes the newest Kia models as well as a wide variety of pre-owned vehicles from many different brands. Our service department is highly trained, efficient and open at convenient hours so you always get top-notch work that fits into your schedule.
Luther Kia proudly serves the areas of Inver Grove Heights, Mendota Heights, Minneapolis and St. Paul.
Luther Kia |
1470 50th St E Inver Grove Heights, MN 55077
| 651.457.5757