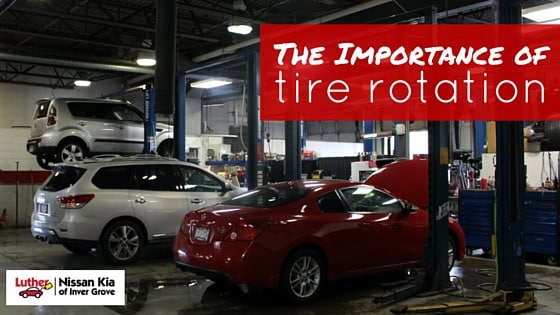 The tires are perhaps one of the most important elements of your car. Think about it – tires are the only thing separating your car from the thousands of miles of road you travel on in a year. It is of utmost importance to keep your tires in great shape to ensure that you are driving safely and keeping your car in great working order.
There are many checks you should do that are specifically for your tires and wheels, including getting your wheels aligned, checking tire tread and keeping your tires inflated to the correct psi. One important service that you might not think much of is getting your tires rotated.
"Rotating your tires" isn't a very informative way to phrase the process, but nevertheless it is a key step in good tire maintenance. It is the process of switching your tires from the front to the rear positions and vice versa.
This is a necessary process because the front and back tires don't get the same amount of wear. Especially in front-wheel drive vehicles, the front tires do a majority of the work. With each turn of your steering wheel, pressure is applied to the front tires and that causes friction, which produces heat and wears out the tread.
By rotating your tires from the front to the back, you are able to even out the wear and help prolong the life of your tires, instead of getting brand new tires when only 2 of them are bald.
Depending on the tires your vehicle is equipped with, you may be limited in how you can rotate them. Certain vehicles require different sized tires on the front and back wheels and other tires may be unidirectional (specific to one side of the car) or asymmetrical (tread patterns changes from inside to the outside of the tire).
It is recommended that every time you get an oil change (5,000-10,000 miles), you have the technicians rotate your tires as well. If you go in for your regular service check up, it will be a standard item on the checklist of services performed.
___________________________________________________________________
If your vehicle is in need of a tire rotation, our service department is ready to help! We have certified technicians with years of experience bringing you the best service near Minneapolis. You can even schedule your service appointment online here to fit it into your schedule and save some time!
Have questions? Give our service department a call at (651) 457-5757 and one of our service advisors will be happy to assist you!
Service Hours:
Monday-Thursday: 9am-9pm
Friday-Saturday: 9am-6pm
Sunday: Closed
Luther Kia is proud to serve the areas of Inver Grove Heights, Minneapolis, St. Paul, Edina and Bloomington, MN.