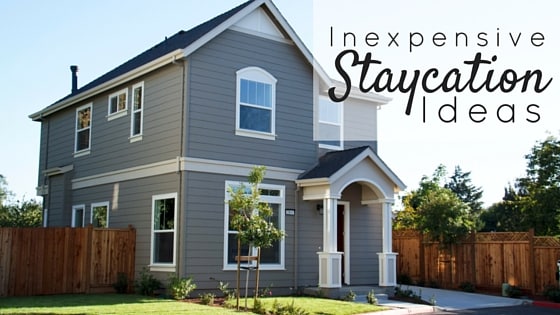 Spring break is coming up at the end of the month and if you have kids, you've definitely already thought about those five days of no school. Maybe your family has a great vacation planned to head somewhere warm or to find some fresh powder and pretend you're competing in the winter Olympics.
If you don't have any big plans made yet and are just counting on spending the days at home just like you do every other day, consider some of these fun plans to get the whole family excited about staying home!
Indoor Camping Trip
While it's definitely too cold outside to camp in the backyard, you can always set up a campground in the living room! If you have an actual tent and enough room to pitch it, do it! If not, pull a giant sheet off the bed and grab some string/cord/rope and some clothespins to fasten it. For an added bonus, play some nature sound effects to really make it feel like the great outdoors. Bonus points if you make all of your food on a hot plate.
Epic Binge
Since the weather outside just makes you want to snuggle up and watch movies all day, why not use the week off to relax and do just that? Choose a theme (preferably that the whole family can agree on) and plan out your strategy for the days ahead. Maybe you want to show your kids some of your favorite movies from your childhood or a tv show you watched with your parents when you were younger. If it's about time you introduce your kids to Star Wars (or think they need to see them again), this is the perfect opportunity. We all know things like that are meant to be watched in a marathon. You could also stick with the theme of vacation and watch all of the National Lampoon Vacation movies for guaranteed laughs.
Volunteer Week
You can also use this week with your family to teach your kids the importance of service to others. Instead of having a week that is all about "me", consider volunteering as a family with a charity. This could be serving food at a homeless shelter, cleaning up a park, walking dogs at an animal shelter or volunteering to read to senior citizens at an assisted care facility (this one is probably the most fun!).
You don't have to wake up at dawn and volunteer until dusk; you can spend the mornings helping others and then do something fun in the afternoons/evenings. But be warned: you might end up realizing that volunteering is more fun than you'd think and you'll want to make it part of your routine!
___
Another great way to spend your spring break is visiting us at Luther Nissan Kia in Inver Grove Heights! We have great family cars that can get your whole crew from place to place in style and comfort!
The Kia Sorento is one of our best-selling SUVs, thanks to its spacious interior and great features. Check it out here!
For a smaller family-friendly option, the Kia Optima sedan offers a sleek design and fuel economy you're going to love.
We have over 130 Optimas on our lot
, so you can definitely find the one you want!